LCD Dress
Specification
- Displays hour, minute, seconds
- Accurate to within 60 seconds a year
- Water-resistant to a depth of 30m
- Shock-resistant
- Mineralite Crystal
- Night Light
- Fine-adjust timing trimmer on module
- Command button located at "1 o'clock" & "8 o'clock" positions
Module
- Japanese LCD (Ricoh)
Battery
-Two #392 button cells
Setting Instructions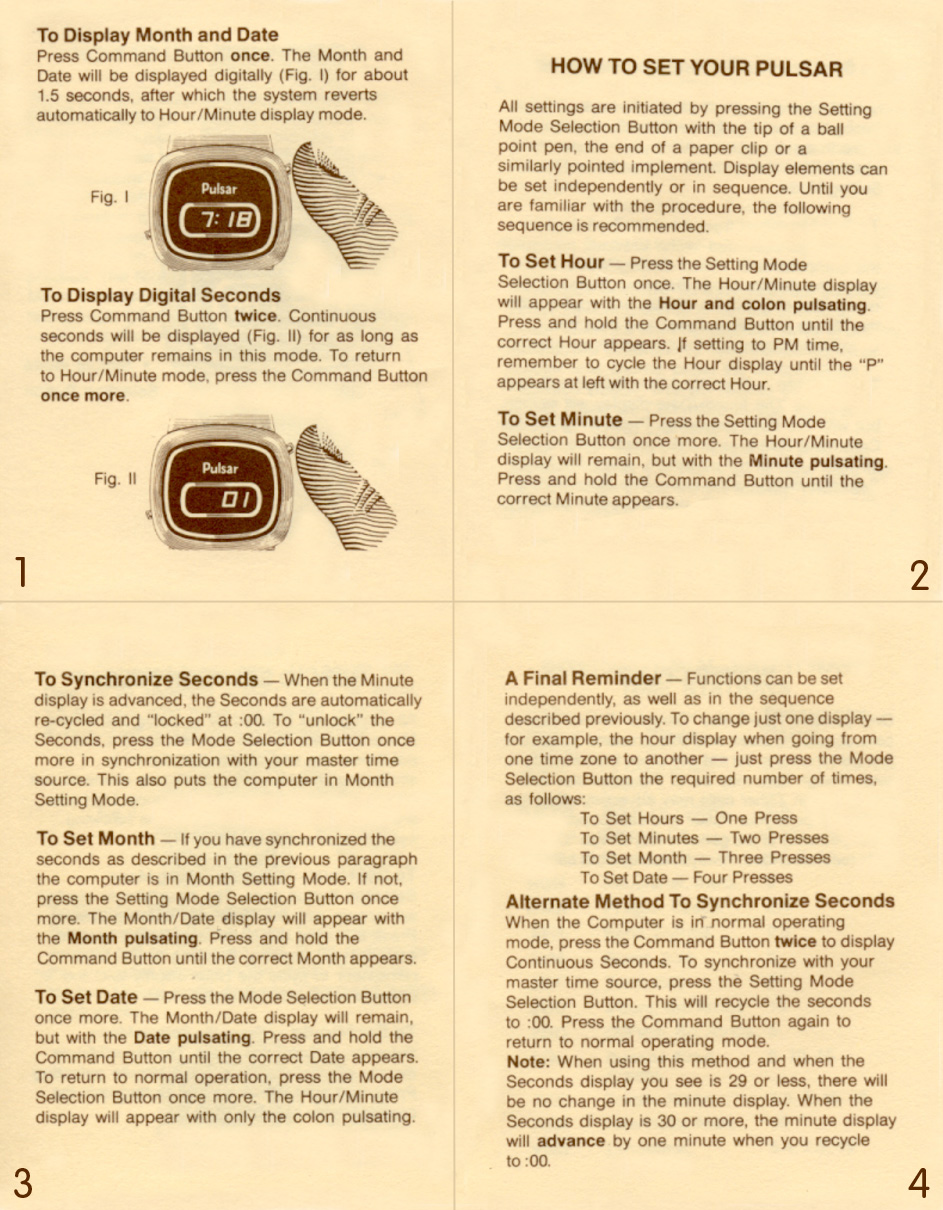 Brochure
Product Information
Time Computer's new LCD models were typical Pulsar. A high quality gold-filled case and mesh bracelet. One year warranty and the Night Light once again, set the Pulsar apart from the rest.
Model Numbers
LCD Models
| | |
| --- | --- |
| 5140 | 10k Gold-Filled with 14k GF Mesh bracelet |
| 3140 | Stainless Steel case and mesh bracelet |
Note: Gold-Filled bracelets were from two different manufactures with varying markings and date stampings.
Collector's Notes
The LCD models were the end of the road for Time Computer. After the onslaught of cheaper made LED watches and the rapid growing popularity for the LCD display, the Pulsar project came to an end. Time Computer just wouldn't manufacture watches of a lesser quality than the world had seen them produce to date. Rather than break tradition, they decided to stop production.
These LCD models were part of the final model line-up sold and were certainly part of the Pulsar project. The famed Pulsar designer, Jean Wuischpard passed away in 2006 with one of his 5140 LCD Pulsar watches on his wrist!