WALL STREET JOURNAL, TUESDAY, APRIL 4, 1972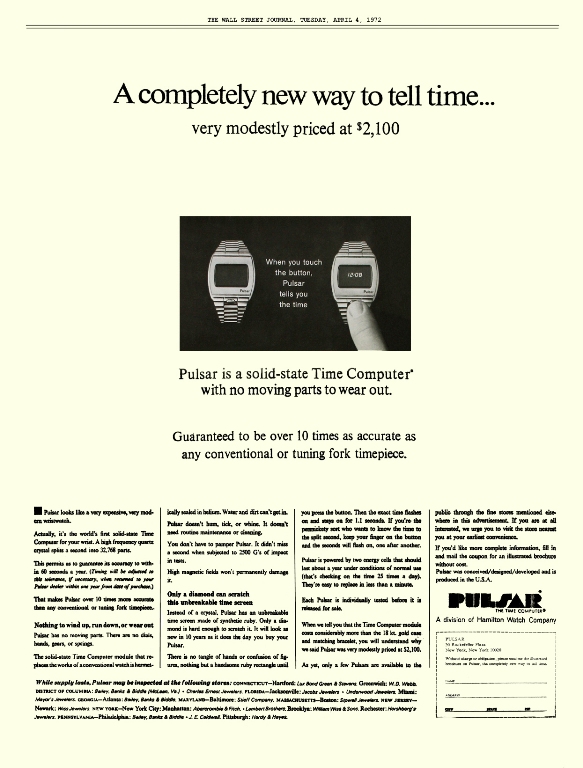 Forty years ago, on April 4th, the way the world would tell time changed. In this full-page advertisement showcasing the newest way to tell time in 500 years -- was the Pulsar. For most, this was the first time they had seen such a watch. The Pulsar and it's digital LED display was first introduced in May of 1970, but over the next 23 months, little new information was available.
Then, after the long wait, came the production release -- but at a price 40% more than the 1970 projected price. Perhaps the Wall Street Journal was the best newspaper to advertise such a "Modestly Priced" watch. At $2,100, only the wealthy could afford this solid gold Limited Edition Pulsar. With only 450 watches available and an allocation to the dealer network, just a fraction of the so called "one-percenters" on Wall Street had a chance to find one locally. Enthusiasts could request a free Brochure -- the same one included in the Press Kit sent out to the major news networks. Sadly, by the time they got the brochure in the mail, the one or two watches allocated to a dealer in their area, were spoken for.
This Wall Street Journal advertisement initiated the frenzy for Pulsar ownership. Demand for more production became a challenge, but soon there were more affordable Pulsar models for both men and women. For a time, Pulsar was outselling every high-end timepiece on the planet. To put this in perspective, Jewelers were selling more solid gold Pulsars (and at a higher price) than the top-of-the-line Rolex. Inevitably, Pulsars showed up on the wrists of many famous people and appeared in movies and television. An unprecedented escalation in popularity quickly elevated Pulsar to a status all its own.
We thought it was time to dedicate a new section, Celebrity Pulsar , to this unique part of Pulsar history.
Happy 40th Anniversary Pulsar!